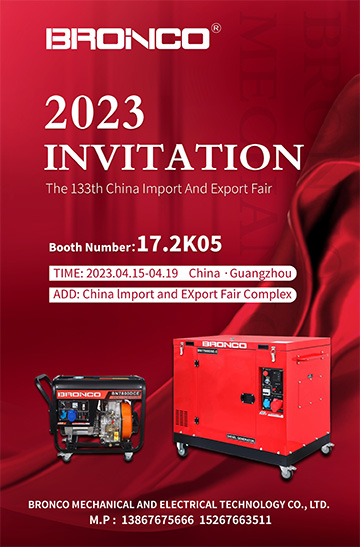 BRONCO Electrical Machinery Manufacturing Co., Ltd.
Was the first independently-owned enterprise that BRONCO set up in China. It located in Shanghai Songjiang High-Tech Industrial Area, which puts it only 2km away from the Shanghai-Hangzhou high-speed railway. To the North is the Sheshan National Tourism Resort, and is also nearby the Songjiang Xincheng (University Town). The plant is just 25km away from Hongqiao International Airport, and 48km away from Pudong International airport, very easily reached by air.


BRONCO

is a company that combines the development, manufacturing, and marketing of gasoline generators, diesel generators, water pumps, air compressors. We possess advanced production testing equipment and a modern quality management system, and have always implemented comprehensive quality control through strict adherence to ISO9001 standards. Furthermore, our products have also passed GE, CE, EMC certification.
Products Catalouge
The 133th China Import And Export Fair
2023 INVITATION
Booth Number:17.2K05
TIME:2023.04.15-04.19 China.Guangzhou
ADD:China Import and Export Fair Complex
BRONCO MECHANICAL AND ELECTRICAL TECHNOLOGY CO.,LTD.
M.P:13867675666 15267663511
The 121th Canton Fair, 2017
Place:
Exhibition Center: The Pazhou Exhibition Center, Power Machinery and Electric Power Zone.
Booth Number: A3.1 L18
Date: April.15-19, 2017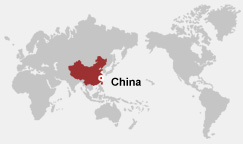 Shanghai Bronco Electric Machinery Manufacturing Co., Ltd.
Add: No. 855 Yushu Road, Songjiang Hi-Technology Industrial Zone, Shanghai, China
Tel: 0086-21-57733456 57734567
Fax: 0086-21-57734688 57734777
Website: www.chinabronco.com
E-mail: sales@chinabronco.com

Bronco (Zhejiang) Electric Machinery Manufacturing Co., Ltd.
Tel: 0086-576-88133333 88168878
Fax: 0086-576-88126777 88127788

Zhejiang Bronco Import & Export Co., Ltd
Tel: 0086-576-88168555 88168598
Fax: 0086-576-88896767