Contact Us
Shanghai Bronco Electric Machinery Manufacturing Co., Ltd.
Add: No. 855 Yushu Road, Songjiang Hi-Technology Industrial Zone, Shanghai, China
Tel: 0086-21-57733456 57734567
Fax: 0086-21-57734688 57734777
Website: www.chinabronco.com
E-mail: sales@chinabronco.com

Bronco (Zhejiang) Electric Machinery Manufacturing Co., Ltd.
Tel: 0086-576-88133333 88168878
Fax: 0086-576-88126777 88127788

Zhejiang Bronco Import & Export Co., Ltd
Tel: 0086-576-88168555 88168598
Fax: 0086-576-88896767
Position: - > Air-cooled Diesel Generators
Back>>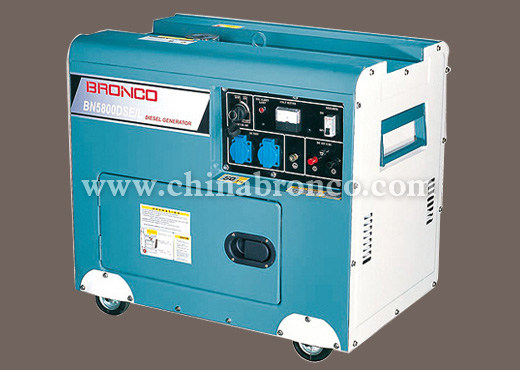 Model: BN5800DSE/L
Feature:
With large capacity fuel tank,with fuel guage.

Gensets with low oil pressure.over-voltage,over-loaded protection system,running safely and reliable.

Several control panel models:ATS,intelligent digital,normal panel or remote control panel,ect,for clients option.

Portable beautiful shape,wiht wheel and handle.

Anti-shock design.

Single phase or three phase alternator for clients option.

The output power can be enlarged by fixed with engine BN186FA according to clients request.

ISO2000-9001,CE,GS approval.

The dimension is the outer sizes of the packages.
Model

BN3800DSE

BN5800DSE

BN5800DSE/B

BN5800DSE/ATS

BN5800DSE/C

BN5800DSE/D

BN5800DSE/L
£¨super silence£©

Engine model

BN178F/E

BN186F/E

BN186F/E

BN186FA/E

BN186F/E

BN186FA/E

BN186F/E

BN186FA/E

Rated frequency
(Hz)

50

60

50

60

50

60

50

60

50

60

50

60

50

60

50

60

50

60

50

60

Rated voltage
(V)

230

240/120

230

240/120

230

240/120

230

240/120

230

240/120

400/230

420/240

230

240/120

400/230

420/240

230

240/120

400/230

420/240

Rated current
(A)

12.2

13.8/27.5

19.5

20.8/41.7

19.5

20.8/41.7

19.5

20.8/41.7

23.5

20.8/41.7

9.2

8.3

19.5

20.8/41.7

9.2

8.3

19.5

20.8/41.7

9.2

8.3

Rated output power (Kw)

2.8

3.0

4.5

5.0

4.5

5.0

4.5

5.0

5.5

6

5.5

6.0

4.5

5

5.5

6.0

4.5

5

5.5

6.0

Max.outpupower
(Kw)

3.0

3.3

5.0

5.5

5.0

5.5

5.0

5.5

6.3

7.6

6.3

7.6

5.0

5.5

6.3

7.6

5.0

5.5

6.3

7.6

Rated rotation speed (rpm)

3000

3600

3000

3600

3000

3600

3000

3600

3000

3600

3000

3600

3000

3600

3000

3600

3000

3600

3000

3600

Power factor
(cosØ)

1

1

1

1

1

1

1

Bore¡ÁStroke
©zmm©{

78¡Á62

86¡Á70

86¡Á72

86¡Á70

86¡Á72

86¡Á70

86¡Á72

Compression
ratio

20£º1

19£º1

Starting system

Recoil starter/E-starter

Rotation direction

clockwise

Lubrication
system

pressure splashed

Disp lacement

296

406

418

406

418

406

418

Fuel consumption
£¨g/kw.h)

£¼280/293

£¼273/286

Fuel type

£¨summer£©0#£¬£¨winter£©10#

Lube oil type

SAE-10W30£¨above CC grade£©

Structure
type

Silent type

Starting system

Electric starter

Fuel tank capacity
(L)

16

16

Oil capacity
(L)

1.1

1.65

1.65

1.65

1.65

Noise level
(dB)

75

75

75

68

Overall dimension
( mm)

830¡Á560¡Á760

960¡Á570¡Á760

Net weight
(Kg)

135

165

165

168

165

165

165

165

165

160